Coming Events to Keep Us Informed
Lenten Book Discussion
Sunday, March 26, 2023
4:30 PM
Entering Eternity with Ease
A Spirituality for Any Pandemic
By Sal Umana
"We can have eternal life right now, just as Jesus has eternal life right now, through his 'resurrected presence' among those who love him. The rest of us will not have millions of believers and followers who will follow us down the centuries. That is why it is so important to grasp the significance of the 'eternal NOW.' Eternity is NOW. Eternity always was and always will be. Eternity is not a lot of time before and after. Eternity is out of time, beyond time, beyond the material, beyond the moving parts of cosmic explosions. Eternity is now and forever."
Entering Eternity With Ease teaches us that there is no difference between life and death. We do not live in order to die. We live in order to love, and LOVE is everlasting…
There is no difference between life and death, or between life and love. There is no difference between time and eternity… no difference between heaven and earth.
Featured Program
Nice Racism: Spring Book Circle with The Mercy Association
Recommended by Kathy Schiro – "The presenter for Robin Di Angelo's book is the Executive Director for Mercy Association in the Institute of the Sisters of Mercy of the Americas. She's a wonderful speaker and speaks the truth with determination and assuredness."  NOTE:  There is  $65 registration fee.
This series will engage in conversation and spiritual practice which will challenge and enlighten participants' consciousness while examining the dissemination of suppressed and inherent racist patterns exercised daily by well-intentioned people.
Learn more and register HERE.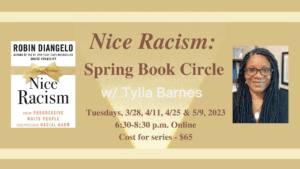 ART EXHIBIT
A Child's View From Gaza
Sunday, 16 April 2023
11:30 AM ~ 2:30 PM
Unitarian Universalist Congregation at Montclair
67 Church Street, Montclair, NJ
Free and Open to the Public; Wheelchair Accessible
Sponsors
Jewish Voice for Peace – Northern NJ   Peoples Organization for Progress
Cosponsors (in progress)
             Al-Awda  American Muslims for Palestine  Jewish Voice for Peace – Central Jersey
For more information jvpnorthjersey.org • e-mail: northnj@JewishVoiceForPeace.org
Facebook: @JVPNoNJ • Instagram: @jvpcentralnj
Letter writing to President Biden re: Reparations for African Americans -by April 1st – effort is led by Network (Nuns on the bus)
https://networklobby.org/presidents-day-letter-writing-campaign-to-president-biden/